Terenure Men's Shed
What is Men's Shed?
Originating in Australia in the 1990's, the Men's Shed movement is a social inclusion movement for men designed to encourage discussion on health and wellbeing issues as well as reduce depression related illness in older men. It does this by facilitating meetings and group activities literally in a shed! Most Men's Sheds double up as workshops where members can gather and/or work on meaningful projects at their own pace in informal, "women-free" surroundings.

The Irish Men's Sheds Association was formed in January 2011. Their mission is to support the development of the burgeoning Men's Sheds movement throughout the island of Ireland. More information about them, and details of the Men's Shed movement generally,can be found at their website www.menssheds.ie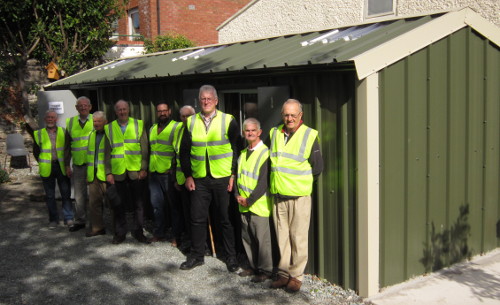 Terenure Men's Shed at the Evergreen Hall
The Terenure Men's Shed group was formed in 2015 and initially met in the hall while plans for a dedicated shed took place. Eventually, after a lot of preparation work, and with help from Dublin City Council, in April 2017 the new shed was installed behind the Evergreen Hall enabling the group to fully function as a Men's Shed group.
The group meets throughout the week (Monday to Friday), and has a dedicated discussion time in the Evergreen Hall on Wednesday afternoons. It also gets involved with various local activities such as stewarding the 5km fun runs in Bushy Park each Saturday morning, the Terenure Tidy Towns Group, and many other charitable causes.
To join the group, contact Niall on 086 361 3159, or visit us in the Hall on Wednesday afternoons.
Quality Garden Furniture from Terenure Men's Shed